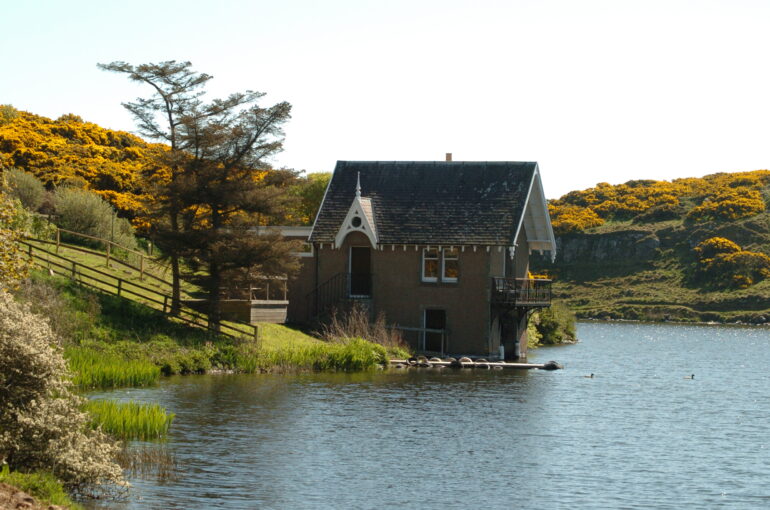 19th April – 2nd May 2021
With the easterly wind still prevailing the last two weeks have remained quite cold throughout the day and even colder during the evening. Not always pleasant for fishing but certainly beneficial in terms of keeping the water temperature down and as a consequence, the fish fighting hard.
The weather next week seems to be quite unsettled, with some much-needed rain forecasted for the start of the week and the colder conditions continuing for the latter part of the week.
We finally saw the return of the Martins and Swallows with the house martins arriving on the 25th April and the swallows following them the day after. As we said in the last report, this usually heralds some decent hatches of insect life but due to the much colder conditions for the time of the year, it's no surprise that these welcome visitors were a good ten days later than usual in getting here this year.
The fishing has remained steady, with most people catching and some people catching extremely well.
As a general rule, a combination of buzzers, FABs and lures (cat's whisker, cut throat cat, damsel) seem to have been working best in the morning with dries coming in to their own later in the afternoon. Floating lines or sink tips have been most successful but just yesterday a few of our anglers switched to DI 3 lines and seemed to have better success fishing deeper down using cormorants.
The evening sessions have now started and on Friday and Saturday we witnessed very good rises in all parts of the loch.
Evening sessions mean that we are now open until 10pm and so if you are able to make it, it is well worth coming along, even if it's just for a couple of hours.
We have had a very good response from our members who have submitted brief, yet informative summaries of their recent visits and so we will keep the report brief in respect of these additions, plus the welcome return of the blog from Robbie Bell.
We also have the 'fly to tie and try this month' from Les Lockey.
With the easing of lock-down measures now coming into force, we are hoping that the clubs will be able to attend their scheduled outings along with the holiday guests who are staying here. On club days we will leave the fishing hut open so that individuals can go in there to make a tea or coffee if they wish.
We are asking that:
Face masks be worn when inside the hut
Only one person at a time inside, unless from the same household
Hand sanitise on entry and exit using the dispensers provided
All cups etc to be washed and dried thoroughly
On normal days, i.e. members days the hut can be accessed by members and holiday guests using the key pad on the door as mentioned in our updates to members.
Robbie's Blog:
Well the Border and Loch is fully open to all now.
Dries and Buzzers are working for me.
Of course pulling Lures are successful particularly for the more recently stocked fish.
Now some Anglers really like pulling but at my age I only do it if I have to.
For me Buzzers or Nymphs are the Bees Knees.
Cast out and twiddle back.
This gives you time to look around, chat to your partner and maybe sip on a coffee.
Takes when Buzzer fishing can vary quite a bit. Sometimes the fly line feels just a bit "wrong"
Other times the fish just grows on the end and others the rod is almost ripped out of your hand.
That one can spill the coffee!!
Now Dries are a different. You can be very active with Dries and it needs a good level of concentration to succeed. In addition, you often get a lot of near misses when the fish just seem to inspect your fly and turn away at the last second which can be frustrating.
I am sure you get this with Buzzers but you just don't see it!
Dries are a lot of Anglers favourite method but I prefer the Buzzer.
A more relaxing day ensues and hopefully you get that jolt of excitement. Often!
Having spooned a couple of Trout recently they only had a few Buzzers in them so the hatches will probably pick up particularly it the weather sorts itself out.
Currently the water temperature is higher than the air temperature.
Not good for man nor beast.
A couple of recent returns information sent in from members:
Fri 30th April My granddaughter, Amina and I had a lovely time on Friday afternoon. She had three rainbows and we killed 2 (5lb)- returning the third – a larger trout of at least 3 lb. – 2 on a black lure and the largest trout on a small black nymph. I had 2 – about 2lb each – both on a black lure. Ian Robertson (See photo of Amina)
20th April: Turned up on 20thApril to light cloud cover & light NW breeze as promised by the weathermen. I expected rising fish & was not disappointed. I set up my dry rod with a foam headed yellow owl on the point, a small black buzzer in the middle & size 16 griffiths gnat on the top. There were fish moving all over the deep water & a few drifts produced 8 fish mainly to the owl & only 1 to the buzzer. The wind picked up mid morning so I anchored for a while & had 2 more. A slight easing of the wind saw me drifting again & added another 3 by lunch. I was missing a load of fish & loosing quite a few as well. Went in for lunch & the afternoon was a repeat of the morning – netted 20 by 14:30 so packed in – a very satisfying day. Bob Cockburn
26th April Fished today 1pm-4pm. Conditions: winds slight from SW easing to flat calm by 3pm, overcast, the odd shower of rain. Plenty of fish showing but reluctant to take my dry flies, or anything else other members tried. Fish were turning away from the fly at the last second. I heard the fishing was easier in the morning. Caught just one rainbow, returned. Colin Macaulay
Mon 26th April Lovely morning in ideal conditions. I caught and returned 8 this morning. Lots of fish rising but only 2 were fooled by my dry flies. The rest were caught on the FAB on the point of a washing line. Couldn't interest them in buzzers. Peter Collings
Fri 23rd April, At long last Joy and I (Pepper) managed our first outing to Coldingham this Season , it was super to catch up with Gareth and Carmel and the Dogs after such a long wait .The Fishing was excellent , despite the very Bright , cool windy conditions , we Fished most of the Day drifting from the narrow neck onto the swing gate bank , catching Fish all the way across , when the wind changed in the Afternoon to an easterly we Drifted from Swing gate into Boat House Bay , we ended the Day with 26 Fish , best line 6ft midge / 3ft midge , we didn't have to move the Flies much , static was best . Best Flies as per image . Tight Lines JJP (See photo of flies)
Our holiday cottages were allowed to re-open on Monday 26th April and it is great to be able to welcome holiday guests back for their long awaited breaks to enjoy the peace and quiet of the loch and its environs. If you are not a member of Coldingham Loch Fly Fishers you can fish the loch whilst staying in one of the cottages.  Please contact Carmel directly if you are looking to stay in one of the cottages here at the loch by ringing 01890 771960 or emailing info@coldinghamloch.co.uk