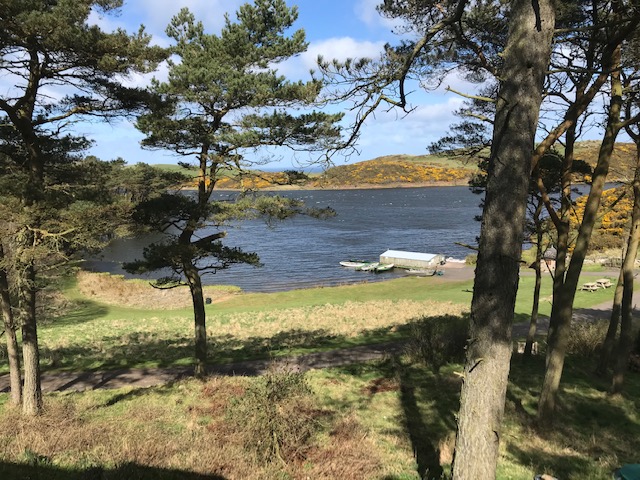 22nd March – 4th April 2021
As you might imagine, the fishing has continued to be outstanding during this opening period of the season with better than average returns being recorded from bank and boat.
All areas of the loch are producing fish. However, in general, I would say that the southern end of the loch is fishing better than the northern end at this stage but with the start of the buzzer fishing just about upon us, this will definitely change any time soon.
Lures and dries have been the best of the fly choices over the past two weeks. In particular, lures such as, damsel, cormorant, cat's whisker, blobs and FABs and dries such as, yellow owl, black parachute, Griffiths gnat, have been the best. Floating and midge tip lines remain the best of the line choices with the occasional switch to a slow intermediate being used.
The water quality is outstanding at the moment with water temps hovering around the 8 – 10 degree C mark, and clarity, superb. As a result, the fish are really fighting hard and, on many occasions, punching way above their weight. There have been lots of reports from members and their guests who think that they have hooked a monster only to find that they have eventually landed a 2 – 4 pound fish that has more than acquitted itself as a hard fighting trout.
As always, we would remind all anglers to observe correct etiquette when out on the loch, and in particular, when on a boat, to periodically keep moving so as to allow others to take advantage of what might be a hot spot.
Also, a reminder that all the boats contain nets and that anglers fishing from the bank can borrow a bank net from the pump room if necessary.
In our last report we included a fly to tie and try this month from Les Lockey. If you get the chance, now would be a good time to include a few of these buzzers in your box as we expect the buzzer / nymph fishing to be very effective over the next few weeks. And as the weather improves we will undoubtedly move in to the best of the dry fly fishing, so stock up on the CDC feathers and get tying!
As we write this report the loch looks more like the North Sea (see photo) on a day when its better to be on the shore wishing that you could be out at sea rather than being on a boat wishing you were on the shore! The forecast for the next few days seems to be suggesting more of the same, i.e. strong winds and bitterly cold temperatures and so if you are considering venturing out, please dress for the conditions. We would also advise that even if you have booked a boat, that you pack the waders in the car, just in case the wind is too strong to go afloat.
Another members update will be going out in the next day or so and there are still a hand full of places left for membership for this year. If you know anyone that might be interested please ask them to get in touch with us here at the loch.
Brief Fishing Reports from Members:
 2nd April 2021
 Perhaps the coldest early April day for a long time.
My last visit was on Friday, cool NW breeze, cloudy in am brighter as day progressed.
Anchored 20 yds out from bank of he west shore of boathouse bay, blanked there.
After lunch moved to 40yds from south bank.
Fish showing regularly facing into the ripple .
Landed 8, returned 7 , killed 1.
All fish on a floating line 12 ft leader, black and claret suspended buzzers , Griffiths gnat.
Bruce Auld.