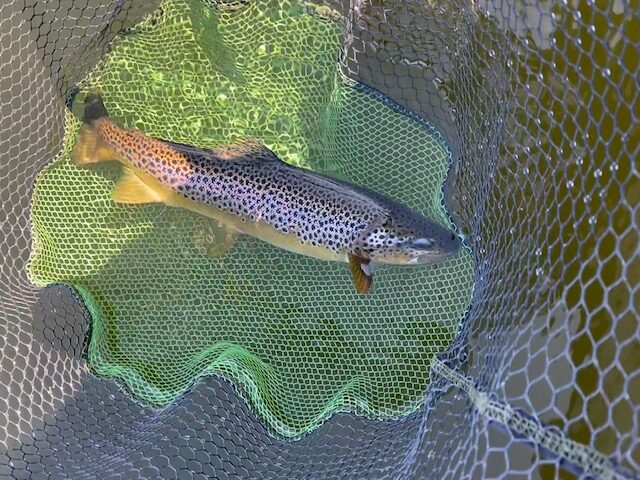 5th – 18th April 2021
As you will all know the last few weeks has seen a return to colder days and frost nights and so we have not always had huge numbers of anglers on the loch.
Despite the colder weather we have however still see some amazing rises in the evenings – see photos. In fact none better than the one we are seeing right now on Sunday evening. Not long to go now before the evening sessions get under way and hopefully the rises will remain equally spectacular.
As we opened up with, the predominantly east, south east wind over the past fortnight has kept the temperatures low which in turn has kept the water temperature down. Whilst this might be cold to the fingers, it certainly has helped the fish, and those of you who have been catching here recently will testify to the hard fighting qualities of the trout in question.
The water quality remains superb, crystal clear, 6 – 10 degrees C, it just doesn't get any better.
According to the forecasters, we are about to see an end to the very cold evenings that we have been experiencing and in turn this will accelerate the hatches, both aquatic and land based. When this happens we usually get the best of the dry fly action, with April, May and early June being the prime months.
As always at this time of the year some people are catching very good numbers both from bank and boat and what is particularly pleasing to see is that fish are being caught in just about all areas of the loch. It's also good to see that people are moving around and giving space and courtesy to other anglers.
The best of the fly patterns over the last two weeks have probably been:
FABs fished with buzzers
Yellow Owl
Yellow dancer
Damsel
Black Minkie
Cut-Throat Cat
So, as you can see, quite a variety of flies and quite a variety of techniques needed. The acceptance to change frequently remains a key feature of catching consistently well.
There have been quite a few blues caught recently along with a few stunning browns, the best of which was probably the one caught by Brian Douglas just a couple of days ago. (see photo)
As we mentioned in our last report, it would be great if anglers wanted to share their experiences, and so please feel free to send in a brief account of your days fishing if you can. We know that other anglers reading these accounts are very appreciative of any and all information that they can get.
So, keep them coming!
We would normally have seen the first swallows and Martins arriving over the past couple of days but as yet no sign. Their arrival usually coincides with the advent of the warmer evenings and the bigger hatches as we mentioned earlier. They cannot be far away though, as last week I had to visit Stocks Reservoir to collect a couple of boats and whilst I was their I saw my first swallow and first Osprey of the season.
A couple of recent returns information sent in from members:
14th April Started 9am finished 3pm (bank). Bright sun and cool easterly breeze. Stuck to dry fly all day. Caught 3 rainbows and 1 brownie on Griffith's Gnat 14. Nice hatch about 1pm. There were long spells of no activity, but I enjoyed the day. Colin McCauley
Returns from March – 5 trips average 6 caught. 1 rainbow kept. 29 returned. Graham Brown
18th April Had another fantastic day 11 rainbow trout 2 blues (see photos) all on black buzzers 15 feet leader dropped six or seven (not paying attention 😀) had my brother in law out as well totally enjoyed himself he managed to lose 6 and landed 2 😂 to my delight 😀 only joking great day had by all can't wait to get back out. James McQuater
16th April – brown trout (see photo) caught on intermediate line with a red quad bead blood worm, slow figure of eight retrieve. Caught in the middle of the boathouse bay. 20 other fish landed, buzzers Brian Douglas