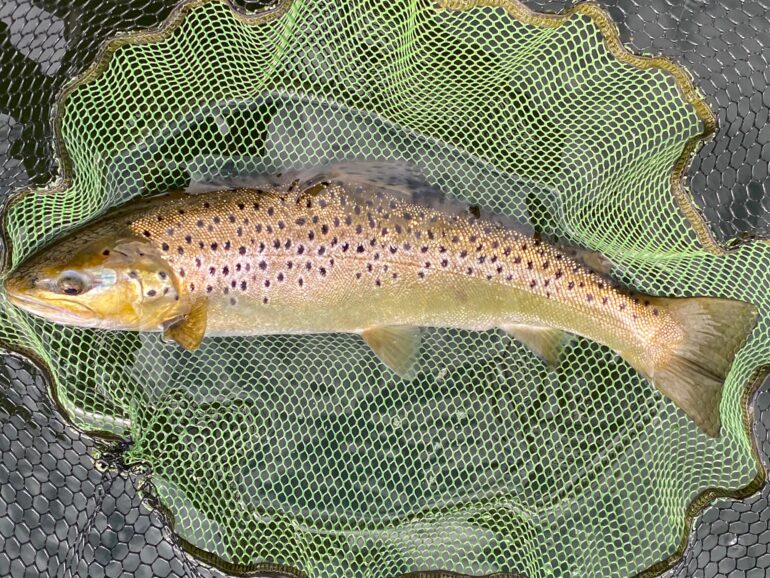 16th – 29th May 2022
This last fortnight has seen some excellent top of the water fishing days for many anglers. As always there have been the haves and the have nots but in the main most anglers have reported plenty of activity and sport. Even on windy days (of which there have been a fair few in the second half of May) anglers have reported seeing plenty of surface activity and having some good takes on the dry fly as well as buzzers. We have see some big hatches of Hawthorn this last period though this has slowed down in the last 3 or 4 days.
With some huge hatches across the loch, and the swallows and house martins working hard to hoover up as much as they can, we have seen some really incredible numbers of rising trout. Suffice to say that as the fly choice becomes more plentiful, the fish are getting trickier at times and the angler who does something a little different like an apps blood worm may get to tempt them onto the hook.
We have had a number of fishing reports in from members and their guests, thank you to those of you who have sent in your reports, much appreciated.
Fishing Reports from Members:
Sat 28th May
Arrived at loch to brisk northerly wind. Went out into bay and quite a few swirly type rises so started with dries: small foam suspender on pt, black buzzer mid & black gnat top.
Had 7 or 8 inspections before a smash take to the buzzer. Tied up a new cast without the buzzer but little success. Changed to pulling – red worm on pt & smaller nymphs on the droppers. One good take first cast that didn't stick. Next drift changed to olive worm – nowt – so getting a bit desperate put on an olive snake. A couple of drifts produced 2 on the snake & 2 on the hares ear top dropper.
Back to the dries & switched to 2 hares ear suspenders. Cracked it! 2 fish quickly in the bay and since the wind had dropped moved on narrows. Lost the next 3 in play then had a bonus fish – another angler had snapped off using a bung & pointed it out to me – 2 casts & I managed to snag it , release the fish & return his gear. I'm counting that one! The wind had dropped & though it was bright the fish were up & rising. I did consider putting a dropper on with a buzzer to sink the leader but was getting enough action with the 2 dries.
Spent the rest of the day drifting the top end changing one suspender for a small daddy (as there were a few about) & got the tally up to 15. Bob Cockburn
22nd May – 27th May 2022 report from one week holiday stay by member Les Lockey
At the start of the week the weather was overcast with sunny periods and changeable, light to moderate winds. Mike and I decided to drift from the jetty across the loch and it quickly became obvious that there were lots of fish in Boathouse Bay as Mike was into a fish on his very first cast. After several different drifts, and with more fish brought to the net, it was clear that although the fish were well spread out around the loch, the action was mainly confined to areas close to the shore where Hawthorn flies were getting blown onto the water, so anchoring and fishing into the bank, often to within a foot or so of the vegetation, proved to be a very successful tactic.
As the week progressed, the weather became sunnier and the winds got much stronger, so much so, that for the last two days, anchoring in the relative shelter of Boathouse Bay was the only viable option. Here, Hawthorn flies were intermittently blown onto the water and during those spells, the fish responded to a well presented hawthorn imitation. On the 27th in particular, there were times when every cast brought some kind of response from the fish – there were swirls at the fly, sometimes two or three half hearted inspections, classic head and tail rises that usually are unmissable, but here the lift of my rod found no resistance at all, and several times our flies simply disappeared, only for our lines to pull away like a buzzer take. Gone were the confident splashy rises usually associated with Hawthorn feeding fish and although it was very exciting, I became more and more frustrated as one fish after another managed to throw the hook after a very brief attachment to my line, which I can only put down to the very clear water, strong wind and bright sunshine.
Our tally for the week was 99 fish to the boat, which included some lovely browns and a couple of pristine Blues, with Mike averaging 5 per day and me, 11.5.  Goodness knows what the figures would have been if all the lost fish had been landed. With Hawthorn flies on the water, our fly list was limited to size 16s black or olive top hat suspender buzzers, Yellow Owl CDC, and of course, the detached foam bodied parachute Hawthorn as depicted in the fly to tie and try for May, which accounted for 90% of the fish caught. Les Lockey
25th May: Forecast was for 20mph winds from the south-west but on arrival at 9.30am it was blowing a hoolie from due north and stayed that way. Maybe the loch never reads the weather forecasts because it is seldom as predicted.
Fished until 2pm on the west bank of the northern part of the loch, took 4 rainbows on hawthorn fly and another two on black shipman's. Almost impossible to see the flies with such waves but if you watch where the flies land you can usually spot rises.
I'm sorry to report that I have landed 2 fish this week that had flies stuck in them, barbed flies at that. Not everyone is sticking to the rules. Cheers, Colin. Colin Macaulay
24th May: Fished 12-3pm today, mainly from the west bank. Caught one rainbow and lost four that threw the hook, missed many more as usual. Fish were still hunting the hawthorn flies along that shore but wind was less favourable today, being light and from the east.  Colin Macaulay
22nd May: Who could refuse an invite to Coldingham loch, when my pal Austin asked me if I would like to join him I said love to. A bit of a good breeze across the loch but not many fish rising we struggled a bit early on but did get some to come up for fabs and dries but the fish didn't seem confident to take them. We both lost a few that didn't want to stay on, I put a shammy on and managed to land a few hard fighting full finned fish that put up a very good scrap.
After lunch we drifted down from where the boats are moored along the north bank and started catching on black emergers and hares ear top hats ,the takes were savage and the fight of the fish was fantastic  ,powerful runs across the loch from these  perfect condition fish.
We ended the day with 11 between us and lost about the same, Gareth and Carmel  have the loch and fish in tip top condition and have done some great work and are in the process of rebuilding from the bad storm damage,  I wish all fisheries were run to this high standard .
Given the chance  I will be up there again like a shot. Many thanks Austin and well done Gareth and Carmel, Cheers  Mick Doherty     Mick Doherty
20th May Strong wind from the west today. I fished 1pm-4pm on the west bank, where hawthorn flies were being blown onto the loch. Took 6 rainbows on hawthorn imitations fished dry, all returned safely. Really enjoyable day with plenty of surface activity. Colin Macaulay
Other News:
The Coldingham Loch Bank Competition for members will take place on Sat 11th June. This is a the first time we have held a bank competition and we look forward to hosting it and hope it will be an enjoyable day for everyone.
Swallows and house martins are busy nest building and some have already lain their first crop of eggs so they will no doubt be kept very busy over the coming weeks. A small group of ducklings are bobbing around after their mother on the loch just now. Currently there are five of them so let's hope she can manage to raise them all.
The swans don't seem to have built a nest yet so we are guessing that for whatever reason they won't be breeding this year – we hear reports that there are cygnets on the river & we know the swans here are often a bit behind but surely not that far behind? Who knows….!!
The motor room has now been re-built and we have re-roofed and painted it so it's looking smart. It feels good to be getting the place back to normal. One section will be for members to store their motors (once we have got a door on it).
Visiting Clubs:
Over the next two weeks here are the club days along with the clubs that are coming:
Edinburgh Waltons
Edinburgh Medical Angling Club (evening session)
Wiremill Angling Club
As always, we wish them a warm welcome and hope that the weather and the fishing are as good as they can be.