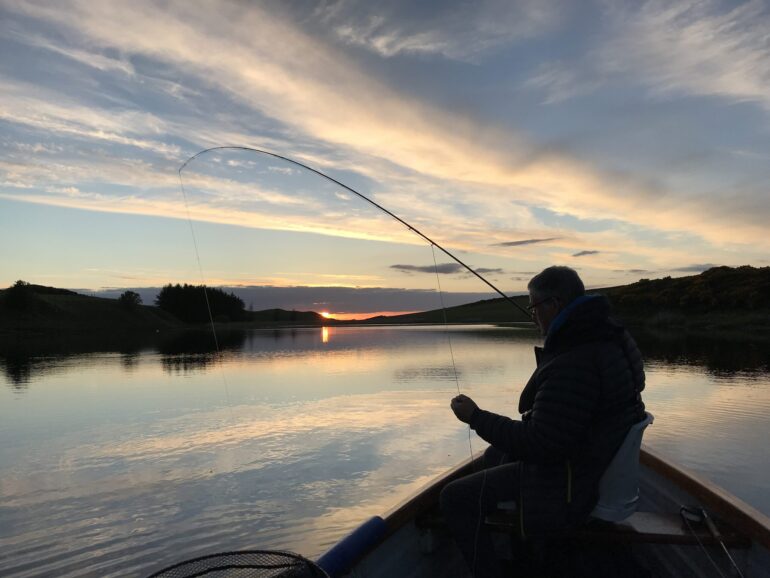 31st May – 13th June 2021
Here comes the summer! The last few days have been warm to say the least. However a stiff W / NW breeze has kept things moving and challenging at times.
Fish are being seen moving in all parts of the loch and are clearly feeding on the small black smuts that are hanging around in their millions. Most people are therefore persevering with their dries and trying to match the hatch. This is bringing limited success for some and slightly better results for others. For instance, Brian Laird managed 15 from the bank last night fishing small black suspender dries and a small yellow owl. Therefore, it can be done, if you are in the right place at the right time fishing the right flies but as we all know it's not always that easy.
Bucking the trend, Brian Douglas went out for a short evening session the other day. Despite fish rising all around him, he changed to a DI3 line and fished what he called a suspender stickleback, pulled and jerked slowly through the water. 21 fish in approx. 3 hours suggests that he might just have got it right on the night!
However, for those of us that like our dry fly fishing, now is the time to really give it a go and whilst we might not hook every fish that shows interest in our flies, we will definitely be kept on our toes by the number of inspections and swirls that we will be getting. It's often said that it's not always about the numbers, unless that is, you are fishing a competition. Therefore, if you can enjoy the challenge of the dries and try to pit your wits against fish that at the moment, have probably got the upper hand, it's worth the effort.
Not long before we see the caenis flies hatching, and then we are in for the biggest of our challenges as we try to negotiate our way through "the fisherman's curse" Good luck with that one!
As I said earlier, fish can be found in all areas of the loch and if you are prepared to drift, rather than anchor, you will cover a great number of trout.
We launched the weed cutter last week due to a sudden rise of blanket weed at the top end of the loch caused by the hotter weather. I'm glad to say that we managed to hoover up the vast majority of the weed and so all areas are once again clear to fish. Weed cutting proper, will hopefully not be required until much later in the summer, but when it's needed, we are ready.
We are not sure why, but there does not seem to have been any hatch of ducklings or other wild fowl this year. We know that the swans nested right at the side of the eastern shore and laid one egg, which promptly disappeared over night   …… probably to a fox or badger, but apart from this we have seen no signs of new life form the birds. We will keep our eyes out though.
Club News:
Our club day this week is on Sunday 20th June when we will be hosting, TOTGA FFC, Edinburgh Amateurs FFC, and The Railway Inn FFC.
The week after, the club day is on Wednesday 23rd June when we will have The Edinburgh Waltons fishing with us.
As always we extend a warm welcome to the visiting clubs and hope for good conditions for them.
(Members are reminded that they can still fish on Club Days but need to phone us here at the loch to check for availability on those days.)
 Robbies Blog:
A Guest.
I had the good fortune to fish with a Guest last Wednesday.
Mr Peter Appleby of Apps Blood Worm Fame.
I have known Peter for well over 10 years and he was in the England Bank Flyfishing Team for the Inaugural International in 2010 where I was the England Team Competition Day Manager.
He is probably the most successful Small Water Fly Fisherman this country has ever seen and has fished in many Loch Style Internationals as well. A Bob Church Classic Winner to boot.
Now it was Peters first ever visit to the Loch. He had been impressed by Alec Harveys Coldingham Video which you can find on You Tube and got in touch for a visit.
So although it was his first visit, I knew I would have to be at the top of my game just to hang on to his coat tails.
As it turned out on the day the wind was howling and although it took the edge off the day and made accurate casting difficult, we still managed around 15 fish each.
Peters most successful method was a single Dry Fly whereas mine was Buzzers on the Washing line.
The day went back and forth with me edging the morning and Peter pulling ahead in the afternoon before a couple of late fish caught me up. I had the first fish of the day with Peter catching on the last cast of the day.
So considering conditions a great all-round day with many lines, flies and methods counting for at least one Trout.
A really good day Peter and thanks for the Flies and the insights to your methods and thinking.
A day to remember for me and some new Flies to tie and techniques to try and perfect.
Or at least make a decent fist of them.
Robbie Bell
Reports from fishermen:
I fished 1pm – 3.30pm. Conditions bright but with some cloud, moderate breeze from the east (again). Fish rose to smuts or tiny buzzers hatching, but seemed to be taking them just below the surface. Many came to look at my imitations but turned away at the last instant. Perseverance caught me 2 rainbows on size 16 Griffiths Gnat, both returned safely. Colin Macaulay (Bank) Wednesday 2nd
Mon 7 th June Good fishing weather, mix of sun & cloud, approx. 15 c & not too windy. Started with dries ( black gnat, Griffiths gnat). Got 1 fairly quickly but not much looking at the dries so time for a change. Before I went out I did notice a number of damsel shucks on the tyres in the boatshed & a few olives in the spiderwebs so on went a couple of olive nymphs & a damsel on the point. Started pulling short sharp 5cm pulls after letting the flies settle & had another 9 by lunchtime off the weeds @ top of wood & drifts up the middle, the nymphs catching most (dropped 5 on the damsel!). After lunch drifted the deep water with various dries & netted another 5 (grey foam suspender, Griffiths gnat, cripple midge & yellow owl). Packed up about 15:30. Bob Cockburn.
8th June Fished 9am-3.30pm. Conditions: dry, warm, partially overcast, breeze was fairly steady from the south-west. Fish were rising quite steadily throughout the day, and seemed intent upon taking very small buzzers. I fished a variety of dry flies and landed a total of 8 rainbows, but lost at least as many as they shed the hook. Small suspender buzzers were probably the most effective patterns I tried. All fish safely returned. Colin Macaulay
Returned 1 rainbow about 2lb, lost/turned lots more.  Fly= black and red hopper. I would say by about 18.30hrs when the wind really picked up it put the fish off. See you again soon. Regards .. Chris Paterson
Fished 5pm-8.30pm today. Strong winds from the south-west throughout, mixed sun and cloud. Fish seemed concentrated in the southern part of the loch, caught 2 rainbows on small suspender buzzers, both returned safely. I tried the northern banks at length to no avail, very quiet up there. Colin Macaulay 10/05/21
Week holiday fishing 30th may – 5th June: Friday 4th June was the last night of the week long fishing trip. The sun was setting, with an exquisite sunset sky. It was 21:59…One last cast said John, he wanted to get his fifth fish of the evening. I controlled the drift past the lily bed and the fish hit the foam bodied Daddy Long Legs, fish on! They'd refused all sorts all week, even now turning their noses up at the Griffiths Gnat which had brought me success all week. Then John said said maybe degrease the fluorocarbon tippets with good old fashioned Fullers Earth. Well, it must have had some magic qualities, that seemed to do the trick. Maybe just made an invisible tippet vanish completely?  Even tempted a wild and wily Brown to take a chance! What a great week, first visit and we are hooked and rebooked. Magic place, great people, great place. Fished all over the World and the last time I saw this amount of rolling, feeding fish was bone fishing in Cuba. And those rainbows go just as good as a Cuban Bone, size for size. Viva La Coldingham Loch! Richard Masters & John HarperVisiting Clubs: 
This week our club day is Sunday 20th June … Edinburgh Amateurs AC & Railway Inn AC
The following week our club day is Wednesday 23rd June  …. Edinburgh Waltons
As always, we extend a very warm welcome to the visiting clubs and hope for good weather and great fishing for them.